Episode 36. Dr. Jim Hoppe
Podcast: Student Affairs One Thing
Release Date: May 29, 2023
Episode Title: 36. Dr. Jim Hoppe
Summary: Host Stuart Brown chats with Dr. Jim Hoppe, Vice President & Dean for Campus Life at Emerson College.
» READ THE TRANSCRIPT | » DOWNLOAD PDF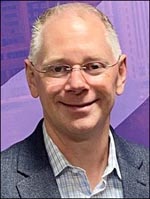 Jim Hoppe joined Emerson College as Vice President & Dean of Campus Life in 2016, where he works to create a vibrant and engaged college community. Prior to Emerson Jim held positions at Macalester College in St. Paul, MN; the University of Puget Sound in Tacoma, WA; Saint Louis University in St. Louis, MO and Northwestern University in Evanston, IL. Jim earned a Bachelor's degree in Political Science, Magna Cum Laude, from the University of New Mexico in 1987; a Master of Science in Education from Indiana University-Bloomington in 1989; and a PhD in Educational Leadership from Saint Louis University in 2004. Jim lives in Marblehead, Massachusetts, with his husband Mike and their two sons.
---
About Student Affairs One Thing
Host Stuart Brown, founder of StudentAffairs.com, chats with seasoned student affairs professionals about what is the "One Thing" they have learned that has helped shape their professional career.
---
» All Podcasts • » 'One Thing' main page • » Season 2

---