Episode 29. Dr. Gourjoine M. Wade
Podcast: Student Affairs One Thing
Release Date: January 9, 2023
Episode Title: 29. Dr. Gourjoine M. Wade
Summary: Host Stuart Brown chats with Dr. Gourjoine M. Wade, Vice President of Student Affairs at Texas Lutheran University.

» READ THE TRANSCRIPT | » DOWNLOAD PDF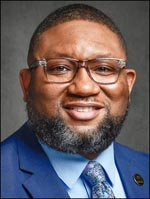 Gourjoine M. Wade, Ed.D. is Vice President of Student Affairs at Texas Lutheran University. Previously, he served as Associate Vice President for Student Affairs and Dean of Students at Grambling State University in Louisiana. He has also held a variety of student life positions at Alabama State University, Arkansas Baptist College, and Prairie View A&M University.
He holds a bachelor's degree in public administration from Grambling State University and master's and doctoral degrees from Walden University in higher education administration and higher education leadership and management, respectively.
He is also a member of the National Association of Student Personnel Administrators (NASPA), where he holds the Region III African American Knowledge Community Co-Representative position. Dr. Wade serves on the Conference Advisory Committee for the NASPA Conferences on Student Success in Higher Education and led Grambing State University's efforts to successfully join the 2020 Cohort of the NASPA First Gen Forward Initiative.
Listed by digital leadership expert Dr. Josie Alhquist as one of the 40 Digital Leaders to Follow, Dr. Wade has been named a Higher Ed Digital Leader and serves as a member of the Student Affairs Digital Task Force, a national collective of social media and digital through leaders in higher education. He was also a member of the 2017 Aspiring Vice Presidents for Student Affairs Cohort and was recognized by the HBCU Campaign Fund as a 2021 Emerging Higher Ed Professional.
---
About Student Affairs One Thing
Host Stuart Brown, founder of StudentAffairs.com, chats with seasoned student affairs professionals about what is the "One Thing" they have learned that has helped shape their professional career.
---
» All Podcasts • » 'One Thing' main page • » Season 2

---