Episode 23. W. Houston Dougharty
Podcast: Student Affairs One Thing
Release Date: September 26, 2022
Episode Title: 23. W. Houston Dougharty
Summary: Host Stuart Brown chats with W. Houston Dougharty, Vice President for Student Affairs at Hofstra University.

» READ THE TRANSCRIPT | » DOWNLOAD PDF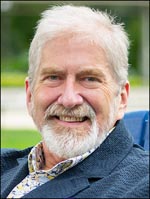 W. Houston Dougharty is Vice President for Student Affairs at Hofstra University. He joined Hofstra in June 2014. He is responsible for the overall leadership of the eighteen departments that comprise the Division of Student Affairs. He was recently honored with the national 2022 Scott Goodnight Award for Outstanding Performance as a Dean by NASPA – Students Affairs Administrators in Higher Education. Dougharty holds degrees from the University of Puget Sound (WA), Western Washington University, and the University of California-Santa Barbara (UCSB). Before coming to Hofstra in 2014, he was associate dean of students at Iowa State University, associate dean and acting dean at his undergraduate alma mater (Puget Sound), dean of students at Lewis & Clark College (OR), and vice president at Grinnell College (IA). He is a frequently invited speaker at conferences and campuses and has taught at UCSB, Drake University (IA), and Hofstra. He received the Outstanding Senior Student Affairs Officer award from NASPA Region IV-East in 2013 and the Distinguished Service to the Profession award from the Iowa Student Personnel Association in 2011. In 2018 he was named a Pillar of the Profession by NASPA – Student Affairs Professionals in Higher Education and in 2021 he was awarded the Scott Goodnight Award for Outstanding Performance as a Dean (SSAO) by NASPA Region II. Dougharty currently serves NASPA as a James E Scott Academy Board member and as faculty director of the 2022 Institute for New Vice Presidents for Student Affairs. In 2011 he was the faculty director of the Aspiring Vice Presidents for Student Affairs Institute and has served on the regional boards for NASPA Regions II, IV-E, and V.
---
About Student Affairs One Thing
Host Stuart Brown, founder of StudentAffairs.com, chats with seasoned student affairs professionals about what is the "One Thing" they have learned that has helped shape their professional career.
---
» All Podcasts • » 'One Thing' main page • » Season 2

---