Episode 26. Dr. Justin Lawhead
Podcast: Student Affairs One Thing
Release Date: November 7, 2022
Episode Title: 26. Dr. Justin Lawhead
Summary: Host Stuart Brown chats with Dr. Justin Lawhead, Dean of Students at The University of Memphis.

» READ THE TRANSCRIPT | » DOWNLOAD PDF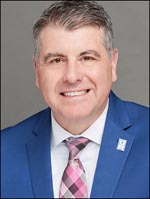 Dr. Justin Lawhead serves as the Dean of Students at the University of Memphis. In this role, he conducts administrative and programmatic oversight and coordination for the following departments: Student Accountability, Student Leadership and Involvement, Multicultural Affairs, and University Police Services. He Implements overall vision, direction, leadership, and the continued development of a student-centered team and programs focusing on student success. Provide leaderships in the areas of planning, human resources, policy development, operational, facility, and budgetary aspects for all reporting units. Ensure compliance with local, state, and/or federal agencies as related to the programs and services within the offices. He partners with the Office of Institutional Equity to develop, schedule and implement programming campus raise awareness in the campus community about all forms of sex discrimination (including sexual harassment and sexual assault) and the University's policies and procedures regarding such matters, so as to reinforce to the University community the importance of this issue to the University administration. He has more than 20 years of experience in higher education in the areas of student leadership training, program coordination, advising and assessment. He directs a comprehensive student development program designed to enhance the educational experience for University of Memphis students. He earned his Doctor of Education in Higher Education Administration from the University of Memphis by completing his dissertation studying the effects of fraternity and sorority participation on leadership identity development.
---
About Student Affairs One Thing
Host Stuart Brown, founder of StudentAffairs.com, chats with seasoned student affairs professionals about what is the "One Thing" they have learned that has helped shape their professional career.
---
» All Podcasts • » 'One Thing' main page • » Season 2

---