Episode 31. Dr. Susan Komives
Podcast: Student Affairs One Thing
Release Date: February 6, 2023
Episode Title: 31. Dr. Susan Komives
Summary: Host Stuart Brown chats with Dr. Susan Komives. She is professor emerita from the student affairs graduate program at the University of Maryland, College Park.

» READ THE TRANSCRIPT | » DOWNLOAD PDF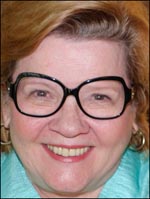 Dr. Susan Komives is professor emerita from the student affairs graduate program at the University of Maryland, College Park where she taught for 25 years and was a VPSA at two institutions. Dr. Komives is past president of both ACPA and CAS and is the recipient of the life time achievement awards from ALE, ACPA, and NASPA. She is cofounder of the National Clearinghouse for Leadership Programs, founder and editor of the New Directions for Student Leadership series and author/editor of 15 books on student affairs or student leadership. Among her many awards are the ACPA Lifetime Achievement Award and the NASPA Blackburn Distinguished Pillar of the Profession Award. She is the proud mother of two and grandmother of three.
---
About Student Affairs One Thing
Host Stuart Brown, founder of StudentAffairs.com, chats with seasoned student affairs professionals about what is the "One Thing" they have learned that has helped shape their professional career.
---
» All Podcasts • » 'One Thing' main page • » Season 2

---