Podcast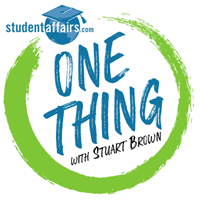 STUDENT AFFAIRS ONE THING
Our original series is a bi-weekly podcast with host Stuart Brown, founder of StudentAffairs.com. He chats with seasoned student affairs professionals about what is the "One Thing" they have learned that has helped shape their professional career. Season 1 and Season 2 are now in the books with a total of 36 episodes. Season 3 will launch in the Fall of 2023.
Check out our playlists on YouTube... » Season 1 | » Season 2
---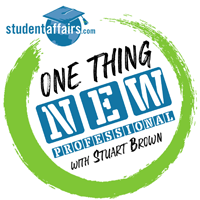 ONE THING - NEW PROFESSIONAL
We've launched a new podcast as a companion to our original "Student Affairs One Thing" series. "One Thing - New Professional" feature talks with those who have 1-3 years experience in the field. And we still ask them "What is one thing that you have learned or feel will help serve you as you move forward in your career?" If you would like to be considered as a guest for this new podcast, please visit studentaffairspodcast.com to complete a short application form. Season 1 is now complete with 15 episodes.
Check out our playlist on YouTube.. » Season 1
---
Listen to the episodes through our website or your favorite app/service:
Apple Podcasts • Spotify • Google Podcasts • Amazon Music • Acast • Stitcher • TuneIn • Pocket Casts • deezer • Podcast.co • RSS FEED
Interested in being a sponsor for our podcast series? Sponsors will be promoted in the broadcast, through social media channels, in the StudentAffairs.com newsletter campaigns and on the website. For information, contact Stuart@StudentAffairs.com.
---
Follow StudentAffairs.com on Facebook, Twitter, and Instagram.
Listen to our podcasts on YouTube! @StudentAffairsPodcast.



---