The #1 Internet Resource
for Student Affairs Professionals
Since 1997, StudentAffairs.com has been providing student affairs professionals with all the resources they need to effectively offer services and support to enhance student growth and development.
Post your resume and search the web's largest database of career opportunities for student affairs professionals.
Find musicians, talent acts, services and vendors to bring to your college or university!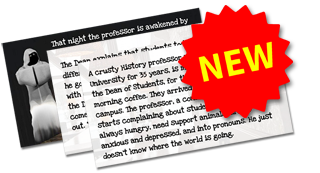 Looking for an entertaining diversion these summer months? Our Escape Room is a virtual experience full of puzzles to solve, codes to crack, and clues to discover. The storyline is based on the Charles Dickens classic, A Christmas Carol, and incorporates a number of-the-moment higher education issues such as food insecurity, emotional support animals, mental health, and gender identification. Unlock the secrets of each room to reach your final destination. To paraphrase Monty Python, if you are looking for something completely different, the StudentAffairs.com Escape Room is the challenge for you and the perfect way to have fun and learn something or two at the same time.
StudentAffairs.com has restructured and reduced its Webinar pricing. We are offering 60 days of unlimited replays with every full-priced course, now priced at $150. We are also slashing our one-time replay price to only $50.
» Check out all webinars and replays!
The 20th Annual StudentAffairs.com Virtual Case Study Competition (VCS) pits teams of student affairs/counseling graduate programs across the country against each other. Teams are challenged to create a response to an of-the-moment case study scenario. Cash prizes are awarded to each member of the top three teams. Congratulations to the team from the University of Nevada, Reno for winning our 20th edition! This year's scenario dealt with creating a meaningful and absorbing virtual program that stresses social engagement utilizing both a PDF presentation and a short video. You can check out all individual team entries from this year as well as peruse our list of winners and competitions from the past 20 years.
» See all 2021 VCS results!