Episode 30. Dr. Hank Parkinson
Podcast: Student Affairs One Thing
Release Date: January 23, 2023
Episode Title: 30. Dr. Hank Parkinson
Summary: Host Stuart Brown chats with Dr. Hank Parkinson, Dean of Students at Fitchburg State University.

» READ THE TRANSCRIPT | » DOWNLOAD PDF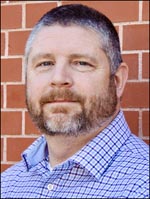 Dr. Hank Parkinson serves as the Dean of Students at Fitchburg State University. He has 24 years of progressive experience in Higher Education administration and focuses his work around Diversity, Equity, Inclusion, and Belonging, Student Success, and Leadership Development. He earned a Doctor of Education from Nova Southeastern University and by completing his dissertation, created a comprehensive three tiered Leadership Development program. He has worked at multiple institutions and brings experience to Student Activities, Operations, Orientation, First Year Experience, Leadership Development, Volunteerism, Greek Life, Residence Life, Multicultural Affairs, and Recreation Services, to name a few.
As a lifelong learner, he has engaged in multiple volunteer opportunities within several organizations, including the National Association for Campus Activities (NACA), American College Personnel Association (ACPA), and National Association of Student Personnel Administrators (NASPA).
Currently, he is serving as the MA State Board Director and is a member of the Region I Advisory Board. Past roles included the Graduate Student and New Professional Liaison on the NASPA Massachusetts State Board, in which he had the opportunity to coordinate the Entry Level Workshop and support other professional development opportunities for the state. In addition, he served as a coordinator for the New Professional Mentor Institute (NPMI) and was a mentor within NPMI. He chaired Region I Student Affairs and External Relations Knowledge Community and was a member of the NASPA Region I Advisory Board for two years. Prior to this, he served three years on the NASPA Region I Conference committee in the roles of; Volunteer & Evaluation, Entertainment & AV, and Registration. Outside of his involvement with NASPA, he led folx in the creation and implementation of the Social Justice Academy through New England American College Personnel (NECPA) in 2020 and 2021.
---
About Student Affairs One Thing
Host Stuart Brown, founder of StudentAffairs.com, chats with seasoned student affairs professionals about what is the "One Thing" they have learned that has helped shape their professional career.
---
» All Podcasts • » 'One Thing' main page • » Season 2

---