Episode 27. Dr. Elizabeth Thomson
Podcast: Student Affairs One Thing
Release Date: November 21, 2022
Episode Title: 27. Dr. Elizabeth Thomson
Summary: Host Stuart Brown chats with Dr. Elizabeth Thomson, Assistant Vice Chancellor, Student Affairs / Director, Equity, Diversity & Intercultural Programs at the University of Minnesota Morris.

» READ THE TRANSCRIPT | » DOWNLOAD PDF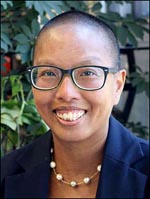 Elizabeth (liz) Anh Thomson's work with college equity and inclusion includes serving as interim director for four years for two cultural centers - Asian American Resource and Cultural Center and the Gender and Sexuality Center - at the University of Illinois at Chicago. She spent the prior nine years there as an Assistant Director and various program coordinator roles. At Northeastern Illinois University's Project Success Program, she advised at risk students and coordinated orientation, recruitment, and outreach activities. She has 10 years of liberal arts college administrative experience at her alma mater, Lake Forest College - as Chicago Alliance Program director, Office of Campus Activities assistant director, and Office of Marketing and Communications assistant director.

Liz has served as an adjunct instructor in Asian American Studies and Women's Studies, guest lecturer in Disabilities and Human Development, and an academic support course instructor. Her experience includes facilitating programs using dialogue methods; organizing large, campus wide diversity and inclusion programs and events; and working relationships centered in collaboration and community building.

Liz earned her PhD in Disability Studies at the University of Illinois at Chicago. Her academic research is exploring the new phenomenon of disability cultural centers in U.S. higher education. She holds an M.A. in Women and Gender Studies from Roosevelt University and a B.A. in German and Sociology/Anthropology from Lake Forest College.
---
About Student Affairs One Thing
Host Stuart Brown, founder of StudentAffairs.com, chats with seasoned student affairs professionals about what is the "One Thing" they have learned that has helped shape their professional career.
---
» All Podcasts • » 'One Thing' main page • » Season 2

---