Episode 28. Dr. Alan Mueller
Podcast: Student Affairs One Thing
Release Date: December 5, 2022
Episode Title: 28. Dr. Alan Mueller
Summary: Host Stuart Brown chats with Dr. Alan Mueller, a faculty member in the Department of Human Development and Psychological Counseling at Appalachian State University.

» READ THE TRANSCRIPT | » DOWNLOAD PDF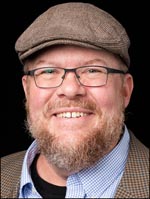 Dr. Alan Mueller is a faculty member in the Dept. of Human Development and Psychological Counseling at Appalachian State University. He is a four-time graduate of Appalachian State University, earning a Bachelor of Arts in philosophy and religion, a Master of Arts in college student development, an Ed.S. in higher education, and an Ed.D. in educational leadership. Prior to Appalachian, Mueller served as the assistant dean of students at Salem College, an assistant academic dean at Guilford College, and a consultant with Adaptive Challenge Consulting. Mueller's research interests include co-curricular leadership development programs and student affairs practices in North Carolina.
---
About Student Affairs One Thing
Host Stuart Brown, founder of StudentAffairs.com, chats with seasoned student affairs professionals about what is the "One Thing" they have learned that has helped shape their professional career.
---
» All Podcasts • » 'One Thing' main page • » Season 2

---