Episode 35. Dr. Christopher Haug
Podcast: Student Affairs One Thing
Release Date: April 3, 2023
Episode Title: 35. Dr. Christopher Haug
Summary: Host Stuart Brown chats with Dr. Christopher Haug from the Association of Catholic Colleges & Universities.
» READ THE TRANSCRIPT | » DOWNLOAD PDF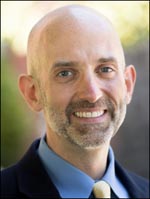 Dr. Christopher Haug has served as a visiting practitioner for the Association of Catholic Colleges & Universities, providing executive-level consultation on leadership and organizational development, external program review, strategic planning and assessmentwithin Catholic higher education. Previously, Chris served as vice president for Student Affairs at Neumann University, in suburban Philadelphia. In addition, he held student affairs leadership roles within our Holy Cross institutions at the University of Portland and the University of Notre Dame.
He earned a Doctorate of Education in Learning and Leading with a concentration in organizational and leadership development from the University of Portland. He earned a Master of Arts in Student Affairs Administration in Higher Education from Ball State University. He attended the University of Wisconsin-Whitewater and received a Bachelor of Science in Education with a focus in business and marketing secondary.

In his spare time, Chris enjoys serving on non-profit boards, swimming, cycling, and hiking with his family, and he's passionate about the environment, sustainable farming, and creating healthy backyards. His backyard in his previous home outside Philadelphia is a Certified Wildlife Habitat with the National Wildlife Federation.

He is also co-authoring a forthcoming book entitled Charisma Speaks: Revisiting, Reshaping, Renewing the future of Catholic Higher Education.
---
About Student Affairs One Thing
Host Stuart Brown, founder of StudentAffairs.com, chats with seasoned student affairs professionals about what is the "One Thing" they have learned that has helped shape their professional career.
---
» All Podcasts • » 'One Thing' main page • » Season 2

---