Episode 15. Dr. Kenn Elmore

Podcast: Student Affairs One Thing
Release Date: March 28, 2022
Episode Title: 15 - Dr. Kenn Elmore
Summary: Host Stuart Brown chats with Dr. Kenn Elmore, Associate Provost and Dean of Students at Boston University.

» READ THE TRANSCRIPT | » DOWNLOAD PDF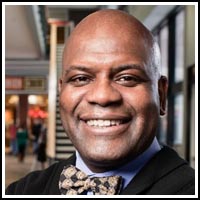 Dr. Kenn Elmore has served Boston University as its Dean of Students since 2003. In 2016, he was elevated to the position of Associate Provost and Dean of Students. A native of Brooklyn, New York, Dean Elmore has over thirty years of experience in higher education administration. Prior to becoming Dean of Students, Dean Elmore worked with orientation programs, student activities, and residence life. He also practiced law in the Boston area. Dean Elmore has earned an A.B. in Physiological Psychology from Brown University, an Ed.M. in Higher Education Administration from Boston University's School of Education and a J.D. from New England School of Law. Dean Elmore is especially interested in issues surrounding community development and social justice, and seeks to motivate students to explore such topics. He likes to challenge others' thinking while embracing the new. He refers to himself as an artist who went to school to study psychology, education, and law. In March 2019, Dean Elmore was named a National Association of Student Personnel Administrators (NASPA) Pillar of the Profession. The American College Personnel Association (ACPA) named him a Diamond Honoree in 2016. He has also been recognized with the NASPA Region I Scott Goodnight Award. Dean Elmore has been a featured speaker at many conferences within the higher education, civic engagement, innovation, legal and marketing fields.

---
About Student Affairs One Thing
Host Stuart Brown, founder of StudentAffairs.com, chats with seasoned student affairs professionals about what is the "One Thing" they have learned that has helped shape their professional career.
---
» All Podcasts • » 'One Thing' main page • » Season 1

---