Episode 13. Dr. Slandie Dieujuste

Podcast: Student Affairs One Thing
Release Date: February 28, 2022
Episode Title: 13 - Dr. Slandie Dieujuste
Summary: Host Stuart Brown chats with Dr. Slandie Dieujuste, Vice President for Student Affairs at Springfield College. As a Haitian immigrant and a woman of color who's accomplished a great deal in her career, she talks about rejecting the notion and desire to continuously prove her competence or her worthiness. She also reflects on the impact she can have on her students.

» READ THE TRANSCRIPT | » DOWNLOAD PDF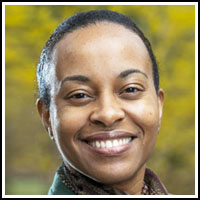 Dr. Slandie Dieujuste is Vice President for Student Affairs at Springfield College. She previously served as Vice Provost for Student Affairs and Dean of Students at Massasoit Community College and was the Associate Vice Provost for Residents and Greek Life at Illinois Institute of Technology.

---
About Student Affairs One Thing
Host Stuart Brown, founder of StudentAffairs.com, chats with seasoned student affairs professionals about what is the "One Thing" they have learned that has helped shape their professional career.
---
» All Podcasts • » 'One Thing' main page • » Season 1

---