Episode 09. Dr. Willie Banks

Podcast: Student Affairs One Thing
Release Date: January 3, 2022
Episode Title: 09 - Dr. Willie Banks
Summary: Host Stuart Brown chats with Dr. Willie Banks, Vice Chancellor of Student Affairs at the University of California Irvine.

» READ THE TRANSCRIPT | » DOWNLOAD PDF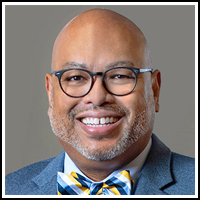 Willie L. Banks, Jr., Ph.D. currently serves as the Vice Chancellor, Student Affairs at the University of California, Irvine, a position he has held since July 15, 2019. In his position, Dr. Banks is charged with providing oversight and direction to the Division of Student Affairs, which is comprised of clusters addressing the whole development of UCI students.
He previously served as the Vice President for Student Affairs at Indiana State University and has held senior level positions at Cleveland State University and the University of Georgia.
Dr. Banks received his undergraduate degree from Mercer University in Macon, Georgia and his Master's and Ph.D. in College Student Affairs Administration from the University of Georgia.
---
About Student Affairs One Thing
Host Stuart Brown, founder of StudentAffairs.com, chats with seasoned student affairs professionals about what is the "One Thing" they have learned that has helped shape their professional career.
---
» All Podcasts • » 'One Thing' main page • » Season 1

---