Wicked Problems and Collaborative Solutions: Applying Design Thinking to Problem Solving in Student Affairs
---
Duration: 1 hour
Facilitator: Dr. Adam Peck
Price: $50.00
---
Description:
Collaboration is an established value in student affairs, as is a focus on student-centeredness. And yet, we often struggle to meaningfully collaborate with faculty and colleagues across our institutions. We also frequently fail to engage students in our decision-making processes to the extent we should. Perhaps we add a student to a committee or run our proposal by a shared governance committee – but how do we meaningfully engage students in problem-solving processes, designing solutions together?
The problems we face in higher education today are complex and are not easily solved in isolation. In the realm of design thinking, these are often referred to as "Wicked Problems." (Buchanan, 1992; Rittel & Webber, 1973). These are problems on which there is no clear consensus of the right or wrong way to approach the problem, and which require collaborative, interdisciplinary solutions. Our failure to address these problems adequately is evident in the declining public trust enjoyed by higher education.
For a growing number of professionals, Design Thinking offers a structure for facilitating meaningful collaboration and problem-solving. Nobel Prize laureate Herbert Simon first advanced the concept of design thinking, defining it as "…courses of action aimed at changing existing situations into preferred ones." And while that sounds enticing, figuring out how to practically approach this goal has eluded many.
Among the best-known structures for Design Thinking was developed at the Sandford University School of Design. This five-phase process is: empathize, define, ideate, develop a prototype, and test. The process is iterative, which means that we may repeat stages multiple times to redefine problems and develop solutions – but when practiced effectively, it demands that we do a few things that many neglect in traditional problem-solving processes. This includes coming to a common sense of the problem from a variety of perspectives, understanding the complexities and interconnectedness of issues, developing innovative solutions, and testing/refining those solutions based on what we learn.
In this session, Dr. Adam Peck will provide an overview of concepts of Design Thinking and how they can inform traditional approaches to problem-solving. He will draw upon concepts from his forthcoming book for which he is serving as co-author and co-editor, "Applying Design Thinking to the Measurement of Experiential Learning."
Learning Outcomes:
The participant will be able to describe traditional problem-solving approaches used in higher education.
The participant will be able to define design thinking.
The participant will be able to describe the five phases of design thinking.
The participant will be able to apply the principles of design thinking to problem-solving processes.
Who should attend:
Entry-Level Professionals
Mid-Level Professionals
Senior-Level Professionals
Presenter: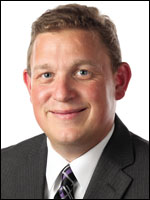 Dr. Adam Peck serves as Assistant Vice President for Student Affairs at Illinois State University and has been a higher education professional for more than 25 years. He previously served as Assistant Vice President and Dean of Student Affairs at Stephen F. Austin State University for 13 years. Prior to that, he was Director of Student Life at Saint Louis University and Senior Student Affairs Administrator for The Texas Union at the University of Texas at Austin.
Dr. Peck is actively engaged in scholarly work as well. He is the co-author and co-editor of the new book, "Applying Design Thinking to the Measurement of Experiential Learning" which is expected to be released in late 2021. He is also the author of more than forty scholarly publications. He served as editor and co-author of the book, "Engagement & Employability: Integrating Career Learning Through Co-curricular Experiences in Postsecondary Education" (NASPA Press, March 2017). He also co-edited, "Leadership Development in Student Employment, New Directions for Student Leadership" with Executive Editors Susan Komives and Kathy Guthrie. He also serves as editor of the Scholarship to Practice section of the Journal of Campus Activities Practice and Scholarship.
Dr. Peck earned his bachelor's degree in Theatre from Lewis University, a master's degree in Communication Studies from Southern Illinois University at Edwardsville, and a Doctor of Philosophy in Higher Education Administration from The University of Texas at Austin.
---