Supporting Staff Development and Increasing Retention of Entry Level Staff Members
---
Duration: 1 hour
Facilitator: Dr. Steven Hood & Dr. Matthew Kerch
Price: $50.00
---
Overview:
It is becoming increasingly difficult for student affairs areas to retain high quality entry-level staff. Typically, the average entry-level staff member is in their position between 1 to 3 years, with some staff leaving within 1 to 2 years. Recruiting, training, and developing staff is time intensive and is a significant cost to departments.
This webinar will focus on areas that can be developed to provide entry-level staff with multiple layers of support, opportunities for advancement, and detail strategies that can be used to retain entry-level staff at a higher rate. Specific examples, training and development plans, and opportunities that may work on your campus will be explored further. If you regularly search for entry-level staff, and wish you would be able to have staff stay at your institution longer, sign up for this webinar.
Brief Outline:
Introduction of topic
Overview of entry level staff in student affairs
Areas to explore to retain entry level staff

Training

Divisional, departmental, and institutional trainings

Development

What is next for them
Collateral assignments
Collaboration

Incentives

Advancement opportunities
Tiers of employment
Progression in their areas

Progression Plans

Plans within division, institution
Working with HR to develop Career Progression Plans

Helping entry level staff go to the next level

Staff recruitment
Staff retention

Items to consider moving forward
Questions and answers
Learning Outcomes:
Attendees will gain knowledge of trends in entry level staff within the areas of student affairs
Attendees will learn about developing programs that will aid in the retention of entry level staff members
Attendees will learn about the implementation of incentive programs for staff
Attendees will gain knowledge of career progression plans that have been developed to promote longevity and productivity of staff
Attendees will gain knowledge of steps to be taken in order to move these plans forward with campus partners and institutional leadership
Who Should Attend:
Division/departmental leadership, directors, and assistant directors.
Presenters: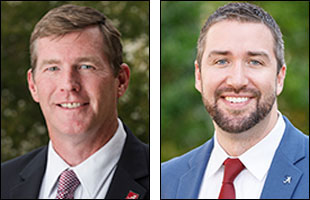 Dr. Steven Hood and Dr. Matthew Kerch have a combined total of over 30 years in student affairs. They have extensive experience developing initiatives to help attract staff to institutions, retain student affairs professionals, and help develop them while they are in their positions. Dr. Hood and Dr. Kerch will be able to share experiences at a variety of institutions (small-large, public-private) to help your institution retain entry-level staff at a higher rate.
---