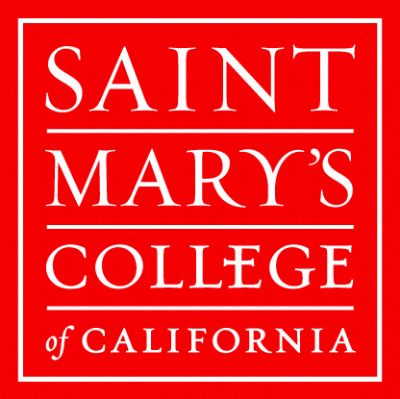 Saint Mary's College of California
Moraga, CA
United States
Senior Admissions Counselor / Assistant Director of Admissions Transfer Recruitment
Salary: $135,200,000.00 - $149,760,000.00 Annually
Job Type: Full-Time
Job Number: 2015-1603948
Location: CA 94556, CA
Department: Admissions
Closing:
4/16/2023 11:59 PM Pacific
Background
Founded in 1863, Saint Mary's is a residential campus nestled 20 miles east of San Francisco in the picturesque Moraga Valley. Based in the Catholic, Lasallian and Liberal Arts traditions, Saint Mary's currently enrolls more than 4,000 students from diverse backgrounds in undergraduate and graduate programs. The De La Salle Christian Brothers, the largest teaching order of the Roman Catholic Church, guide the spiritual and academic character of the College.
As a comprehensive and independent institution, Saint Mary's offers undergraduate and graduate programs integrating liberal and professional education. Saint Mary's reputation for excellence, innovation, and responsiveness in education stems from its vibrant heritage as a Catholic, Lasallian and Liberal Arts institution. An outstanding, committed faculty and staff that value shared inquiry, integrative learning, and student interaction bring these traditions to life in the 21st century. The College is committed to the educational benefits of diversity.
Responsibilities
Responsible for office-wide recruitment, outreach, and territory management for assigned geographicterritory in alignment with strategic enrollment goals. Assists in the development and execution of a transferrecruitment plan which in some instances is tailored to the specific territory demographic. Assists withday-to-day visitors in the role of Counselor of the Day, delivering presentations, and being responsive tostudent ambassador needs. Participate in and assist in coordinating yield activities, including assistance withthe tele-recruiting center, receptions, high school, community college, and community-based organizationvisits, college fairs, application evaluation, and communication initiatives (email, text, phone, social media).Coordinate signature yield programs.
1. Recruitment and OutreachExecute office-wide recruitment efforts to assigned geographic territories.Represent the institution at college fairs, transfer fairs, community colleges,community-based organizations, and high schools; communicate withprospective students, parents, and high school/community college counselors.This includes scheduling, confirming, notifying prospective students and transfercenters of the visit, throughout the fall recruitment period ofSeptember-November, and the Spring recruitment period of February-May.Participate in the visitor experience by conducting information sessions,interviews, admit on the spot appointments, meet & greet appointments,transcript evaluations, special group presentations, and 'Counselor of the Day'activities; maintain continuous contact with prospective students via e-mail,phone, and office visits.Respond to all phone calls and emails within 1-2 Business days.
2. Territory ManagementAssist with creation, maintenance, and implementation of a strategic plan fortransfer and veteran student recruitment and admission in accordance withinstitutional goals; ongoing assessment of strategies in the plan.Manage assigned geographic territory, which includes coordination andimplementation of outreach and yield activities. Compile, analyze, and reportdata for territory; report on any trends within territories; report regularly onadmissions funnel for territories and recruitment/yield activities throughout thefunnel.
3. Coordinate Transfer Recruitment and Yield Programs - Serve as the pointperson for coordinating transfer signature recruitment and yield events.Determine dates, reserve event space, order catering, and develop programcontent and communication for campus events. Work with campus partners,including faculty, staff, students, and administrators.
4. Application ManagementRead and evaluate transfer admissions applications for geographic territories.Assist in holistic application review; assist in follow-up for applicationcompletion; recommend admission decision to the Associate Dean ofAdmissions.
5. Student YieldMaintain responsive communication protocols, including prompt response toinquiries; participate in planning and implementation of student yield events oncampus. Tele-recruit to move students through the admissions funnel, includingcommunications to applicants, admitted students, and deposited students.
6. Veteran Student Recruitment/LiaisonServe as the point person for recruitment and liaison for prospective Veterantransfer students and College staff serving Veteran students. Work with theAdmissions Operations team to create recruitment events in Slate (CRM) withcorresponding communication.
Other Duties as Assigned Collaborate in the coordination of yield programs.Support Office of Admissions with event planning guidance for non-signatureprograms. Will be asked to assist with first year recruitment and file evaluation ifassistance is needed.
Experience and Qualifications
QUALIFICATIONS:
Education: REQUIRED: BA and/or equivalent knowledge, training & experience
PREFERRED:
Experience: (years required and applicable field of experience): 3 years of experience in higher education,admissions and recruitment preferred
Skills/Abilities: (e.g. computer skills, written & verbal skills, trades, laws, procedures, technical)Excellentverbal and written communication, and well-developed interpersonal and organizational skills are required. Ademonstrated appreciation for the Catholic, Lasallian, Liberal Arts mission of the College, a commitment todiversity, and the ability to work well collaboratively as well as independently. A high level of initiative, energy,and flexibility will be highly valued in the selection process. Proficiency with word-processing software, databasemanagement, and internet usage.
Licenses & Certifications (e.g. CPA, RN, etc.):
REQUIRED: N/A PREFERRED: N/A
Other Requirements: (e.g. travel, weekend/evening work) Weekend and travel work required. Ability to drive acar with a valid License
Supplemental Information
Application Instructions: Please apply online at http://jobs.stmarys-ca.edu/
Include a cover letter that specifically addresses how you meet the qualifications and are prepared to support the mission of the College
• A resume
• The name and contact information for three (3) professional references.
• In applying for a position, candidates sign a consent authorizing a broader inquiry which may include reference checks, a motor vehicle check, and a third party background check.
Saint Mary's is an equal employment opportunity employer. We support inclusive excellence and are committed to creating a safe and welcoming community for all.
College policy prohibits discrimination based on race, color, religion, national origin, ancestry, age, gender, sexual orientation, marital status, medical condition, physical or mental disability, gender stereotyping, and gender identity, taking a protected leave (e.g. family medical or pregnancy leave), or on any other basis protected by applicable laws.
Saint Mary's College annually collects information about campus crimes and other reportable incidents in accordance with the federal Jeanne Clery Disclosure of Campus Security Policy and Campus Crime Statistics Act. To view the Saint Mary's College Report, please go to the Public Safety website at http://www.stmarys-ca.edu/public-safety/annual-security-and-fire-safety-report-0. To request a paper copy please call Public Safety at (925) 631-4284. The report includes the type of crime, venue, and number of occurrences.
Please apply online at https://apptrkr.com/4001503
Copyright ©2022 Jobelephant.com Inc. All rights reserved.
https://www.jobelephant.com/
jeid-eb8310746f9666429f10ba07c65d6686
---
Requirements
Start Date: No Start Date
Education: Bachelor's Degree Required
Work Experience: 3 - 5 years
Part/Full Time: Full-Time
---
---