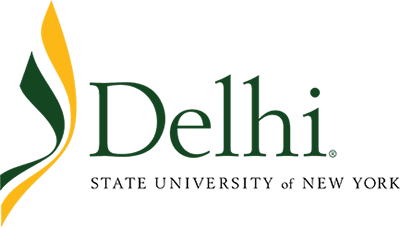 SUNY Delhi
Delhi, NY
United States
SUNY Delhi is an inclusive, student-centered campus that transforms student lives through hands-on learning, innovation, engaged faculty, and exceptional support services. A close-knit campus community set in the scenic foothills of the Catskill Mountains, Delhi is a leader within the SUNY system for applied learning and online programs that cater to a diverse student population of over 3,000 students in over 65 popular majors ranging from associate to master degrees. SUNY Delhi employs approximately 550 full-time, and part-time faculty and staff to fulfill its mission of transforming lives.
SUNY Delhi currently offers over 50 student clubs and organizations, as well as 19 NCAA Division III athletic teams. SUNY Delhi has received national accolades for affordability, online education programs, and outstanding student success.
As the county seat for Delaware County, Delhi is a bustling village with eateries, shops, government offices, and more. SUNY Delhi is an integral part of the community, doubling its population when college is in session. The College offers an array of activities and programs throughout the year for faculty and staff, including a state-of-the-art fitness center, racquetball courts, indoor/outdoor tennis courts, track, basketball courts, indoor pool, sauna, golf simulator, and even an 18-hole golf course. SUNY Delhi employees enjoy unique perks which include access to a student-run restaurant, Community Dog Wash Days, on-campus Butcher Shop, Automotive Repair Shop, and free Professional Development Workshops offered twice a year to help faculty and staff learn innovative teaching skills, earn certificates, get valuable training, and explore new interests. Most employees come for a visit and stay for a lifetime. To learn more about SUNY Delhi, visit www.delhi.edu.
Job Description:
SUNY Delhi prides itself on being a welcoming college community for all. Diversity, equity, and inclusiveness are integral components of the highest quality academic programs and strong campus climate. SUNY Delhi is seeking a highly energetic, engaging, and dynamic self-starter to join the Admissions staff as an Admissions Assistant.
The Transfer Admissions Assistant will be part of the professional staff on the Admission team representing SUNY Delhi to prospective students on campus, at secondary schools, community colleges, and at off-campus events. The incumbent is expected to become familiar with all SUNY Delhi academic programs, and admissions criteria. The successful candidate will review transfer admissions applications, evaluate transfer credit, and provide detailed information to prospective students regarding the on-campus curriculum, academic programs, residence hall programs, and financial assistance. The Transfer Admissions Assistant will attend professional meetings and conferences as required. This position requires a flexible schedule including evening, weekend hours, and seasonal travel.
---
Requirements
Start Date: No Start Date
Education: Bachelor's Degree Required
Work Experience: 0 - 2 years
Part/Full Time: Full-Time
---
Contact / Additional Information
Full-time, 12-month position
Salary: $44,000
Reports to: Associate Director of Admissions
Budget Title: Admissions Assistant (SL2)
This position offers full New York State UUP (FT), benefits which are among the most comprehensive in the country
To apply, please submit:
Letter of interest
Resume or Curriculum Vitae
Contact information for three professional references
For full consideration, please apply by February 28, 2020. The position will remain open until filled.
SUNY Delhi is an AA/EO Employer
Apply online: Transfer Admissions Assistant
---