Being an Introverted Student Affairs Professional
---
Duration: 1 hour
Facilitator: Dr. Marcelle Holmes
Price: $50.00
---
Overview:
When many people think about a student affairs leader, images of a charismatic, gregarious, "people-person" might come to mind. Surely, the most successful and productive leaders in our profession feel their best speaking in front of large groups, conducting brainstorming sessions, attending and networking at large social events, and working in groups. Or do they? In this webinar, you'll explore the personality trait of introversion, explore its neurobiological underpinnings, understand the quiet power of introverts in the workplace, and learn tips and strategies on how to manage your own introversion in a profession that often seems to exclusively value the gregarious extravert. The aims of this webinar are to educate audience members about the trait of introversion, dispel myths, discuss the benefits of an introverted style, and provide audience members with concrete tools.
Taking material from the New York Times bestselling book Quiet, by Susan Cain (2012), we will discuss how introverts in student affairs are sometimes made to feel less valuable than their more extraverted colleagues because they may be perceived as having little to say, aloof, or anti-social. However, introverts have multiple strengths, and, if tapped, their contributions to the workplace can be profound. We will address how introverts can interact with others in the workplace, such as in supervisory roles with extraverts, in ways that maximize their gifts. Participants will learn how to structure their work day or a staff meeting in a way that makes them, and other introverts, more comfortable. We will discuss how to tap into introvert "superpowers," and there will be time for audience questions and sharing of tips.
Brief outline:
During the first part of the webinar, the presenter will introduce the concept of introversion-extraversion and will explore some of the defining characteristics of introverts.
The presenter will next discuss some myths and realities associated with introversion, taken from the research literature.
We will next explore some of the strengths of introverts and how these strengths can be showcased on campus.
The presentation will conclude with strategies for managing one's own or working with a staff member's introversion, with a consideration of how gender, race/ethnicity, and other aspects of one's identity can also be at play.
There will be time for brief comments and questions, as well.


Learning Outcomes:
Participants will be able to provide common definitions of the personality trait of 'introversion.'
Participants will be able to list some myths associated with introversion.
Participants will be able to describe some of the research literature associated with introversion.
Participants will be able to list at least three ways an introverted style can be managed or nurtured at work.
Participants will be better able to structure their work week, staff meetings, and interpersonal interactions at work in ways that are more comfortable for introverts.


Who should attend:
Early or mid-career student affairs professionals who identify as introverts or who would like to better understand the introverts on their staff. Supervisors who would like to understand introverts to better enhance the work environment.
Presenter biography: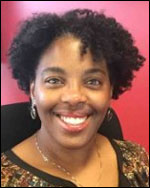 Dr. Marcelle Holmes is a licensed Clinical Psychologist in California and has worked in a variety of settings including private practice, college counseling centers, and as Assistant Professor of Psychology and Black Studies at Pomona College. She has authored articles or chapters on African American mental health, college mental health, behavioral intervention teams, and African American women's leadership in higher education. She has also presented on a variety of topics including trauma-informed care in university settings, mindfulness in higher education, women's leadership, and higher education threat management. She is a member of the American Psychological Association, American Association of Blacks in Higher Education, and Student Affairs Administrators in Higher Education. Dr. Holmes received her Ph.D. in Clinical Psychology from the University of Michigan and her B.A. in Psychology and French from Vassar College. Although Dr. Holmes feels most aligned with an introverted style, over time, she had become more of an ambivert (more about this later). She currently serves as the Associate Vice Chancellor for Wellness, Health, and Counseling at UC Irvine. Her views in this webinar are her own and are not meant to represent the views of her employer.
---